Today is Valentine's Day. It's not really a thing in Australia – well, not a thing like it is in the US. Keeping in mind my ideas of Valentine's Day are pretty much all based on The Simpsons.
Regardless, my husband and I don't even acknowledge it. However, there is one love vibe I can get on board with and that's a little bit of self care. And what is more self caring than bloody comfy yet glam PJs? Well, a lot of things, but PJs are up there!
And since we (I), spend a lot of time in our (my) PJs, it was time for a fresh pair. I've used my favourite PJ pattern in the world – the Carolyn PJs by Closet Case Files. I love how classic they are. Yeah, they are a bit of work with the cuffs and the piping and the pockets, but so worth it. They feel fancy. They feel expensive. They feel like I want to wear them 24/7 and pretend I'm Claire Foy in The Crown. Except instead of corgis I have a Frenchie and instead of staff I have kids. And no one to dress me except me.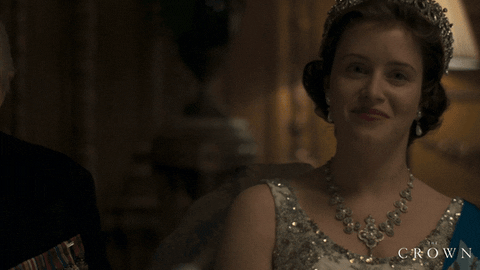 A Queen that is in desperate need of a hair cut. OMG. In a few weeks that is all going. Too much sun, too much salt water, too much chlorine and a bit of neglect.
But look how faaaaaaaancy they are. They are my fanciest pair. I have three pairs – two shorts/short sleeve pairs in cotton for summer and one pair in flannelette for winter. The summer pairs get the most wear because we don't have much of a winter. February is actually our hottest month of the year so these babies won't be getting worn for a while yet. See that sheen on my face? That's not a triumphant pj-making glow, that's sweat because it's currently 34 degrees (that's 93.2F for my American friends).
Fancy with creepy buttons. I love these buttons. My husband picked them up for me from an Op shop recently. Who needs flowers when you can have creepy hand buttons. I used the gold piping just to match my gross but delightful buttons.
The fabric looks cool right? But it's actually the devil. I've sewn with satin before and survived, but this is satin with spandex. WHAT WAS I THINKING? I know what I was thinking. It feels amazing and that little bit of stretch will make for added comfort when I'm lounging around on a Sunday morning (or, more likely, when it's 3pm and I've picked the boys up from school and don't have to be seen in public anymore). You can purchase the satan (ahem, satin) here if you're keen for a bit of crying. I honestly unpicked those cuffs and collars more times than I care to admit. That slippery, stretchy devil did not want to cooperate – despite stay stitching and interfacing. So no, they aren't perfect, especially that collar. But they're good enough for me.
Stop looking at my wonky collar.
Now if summer would hurry up and leave, that would be great. I have swanning to do.